Take me back to Thailand! This recipe is Thailand in a pineapple bowl. I will never forget the first time I had this dish, it was at a small restaurant in Chaing Mai, a small town in the mountains of Thailand, the restaurant is called Cooking Love. Aptly named because you can tell every grain of rice was made with love.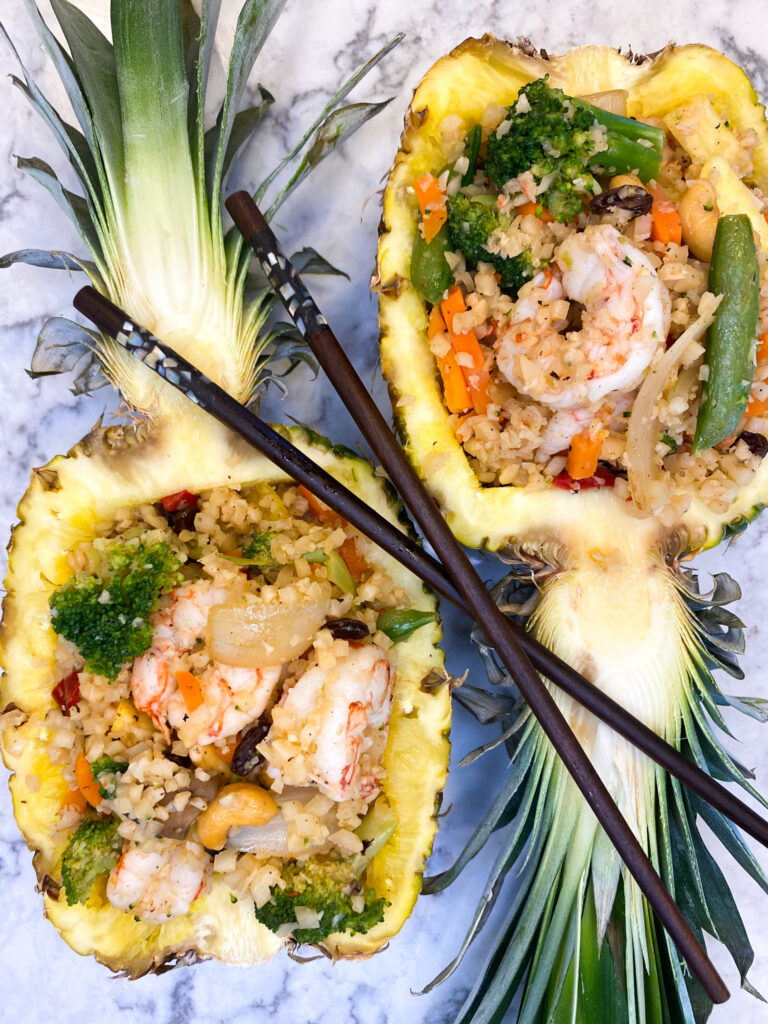 This restaurant is so popular not only by tourists but with locals as well. The food is out of the world delicious, the staff exudes kindness (as do most all Thai people) and everyone in the restaurant is happy to be there. I really do know why they call it the 'Land of Smiles'.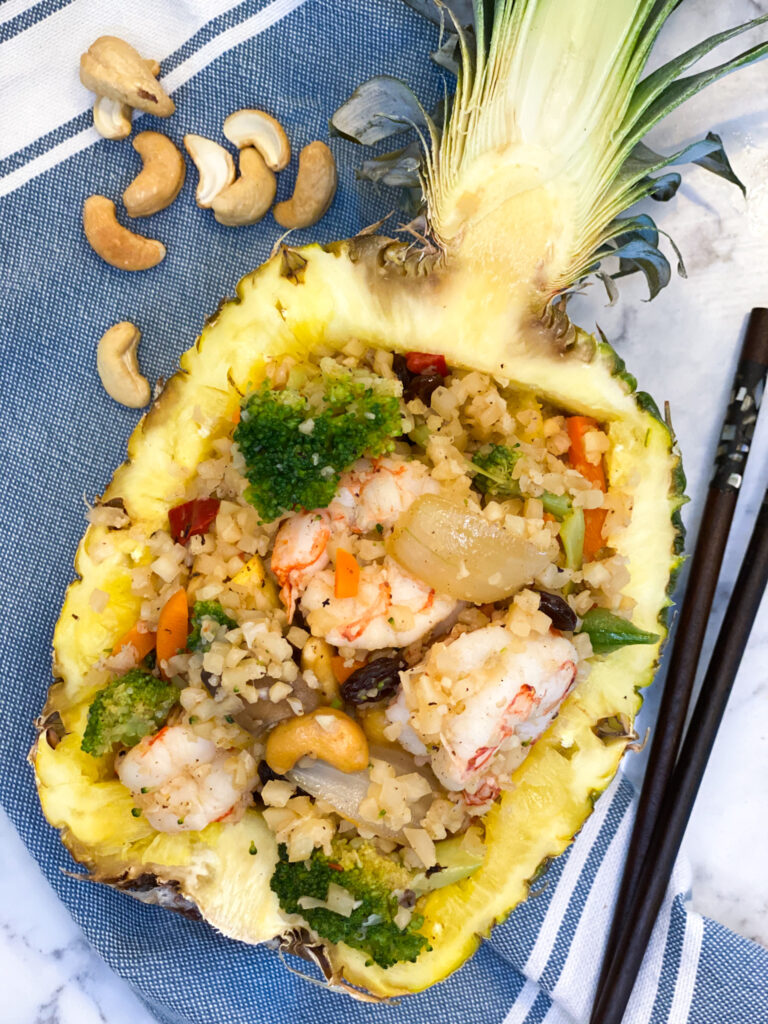 We probably would have paid any price for our meals (yes, plural because we back twice) but we were shocked to see the bill. We ordered 3 entrees (also yes, my eyes are always bigger than my stomach) an appetizer and two drinks. Care to guess the bill in USD? I promise you won't even get close… $9 USD. NINE dollars for the best meal we had in Thailand!
The moral of this story is two-fold A) visit Thailand if you ever have the opportunity and B) Try this dish! You'll be transported to the Land of Smiles, even if you don't feel like stuffing it in a pineapple half, the flavors are incredible.
---
Links in this post are part of the Amazon Associate program. I earn a small commission from qualifying purchases at no additional cost to you.
---
Print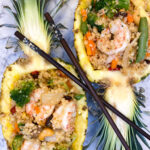 Shrimp Fried Rice Stuffed Pineapple
---
1

lb uncooked shrimp

1

pineapple – cut in half and fruit removed. Discard the core and keep the soft fruit

2 cups

cooked rice – preferable a day old

1/2

sweet onion – chopped into

1

" pieces

2 cups

of your favorite vegetables (chopped broccoli, carrot, onion, bell pepper, fresh string beans, etc)

1/4 cup

cashews – roughly chopped

1/4 cup

raisins 
Sauce
---
Instructions
Start by making the sauce. Combine all ingredients and whisk to combine.
Prep all veggies, chop and measure everything, and set to the side. Note: When making a stir fry it's best to have everything ready to go. You'll be cooking at high heat and to avoid burning your ingredients make sure you have everything at an arms distance.
In a wok or large deep skillet, heat canola oil over medium-high heat. Season shrimp and cook shrimp for about 4 min. Try not to overcook as they will become tough and chewy. Then remove and set to the side.
Add a little more oil to your skillet, increase heat to high and saute the veggies, start with the items that take a little longer, carrot, onion and broccoli. Season

lightly

with salt. Once veggies are soft to your liking add the rice and sauce mixture. Reduce heat to medium and quickly stir and get everything combined. Cook while stirring continuously until the rice is warmed through. Taste and if additional heat or salt is needed added in more chili garlic sauce and/or soy sauce.
Lastly, add in the pineapple chunks, raisins and cashews. Stir to combine then fill the pineapples with the stir fry mixture.
---
Keywords: Shrimp Fried Rice, Thailand, Pineapple