Wow! This carrot cake blew up on my Instagram so I wanted to share the recipe and how I made those little flowers. The recipe belongs to Danielle at Live Well Bake Often
For me to share a baking recipe is rare, my baking skills are not that refined and I usually don't have the patients for elaborate decorating. So I was pleasantly surprised when this cake not only tasted great but turned out pretty cute too!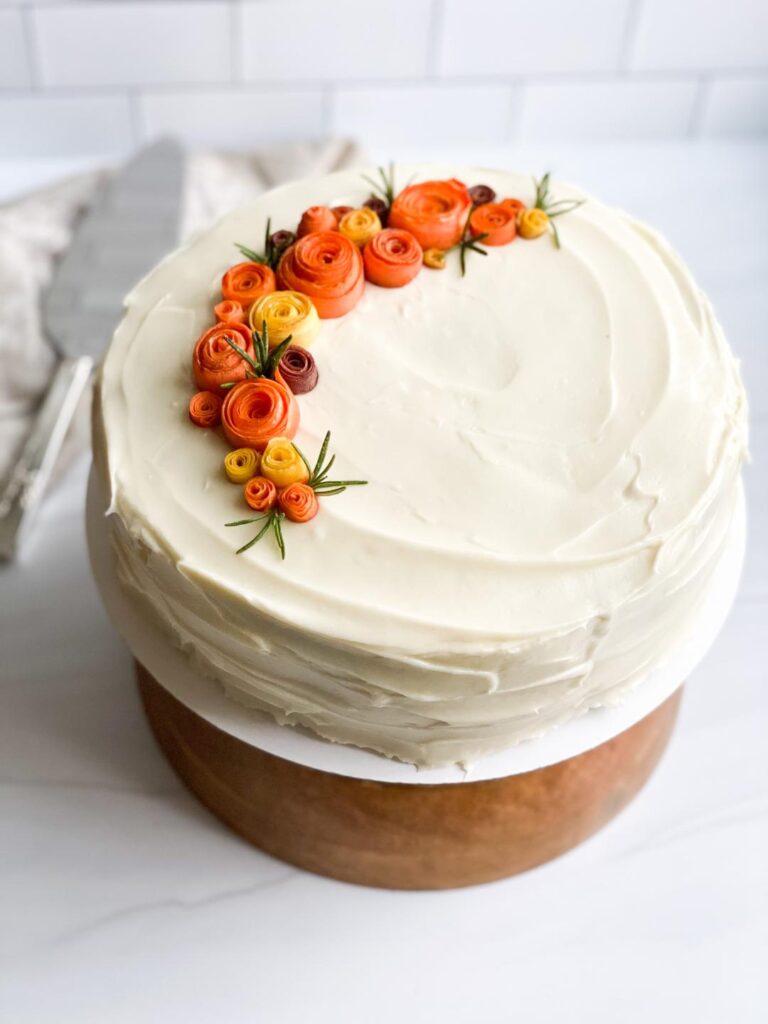 How To Make Carrot Flowers
*Photo's coming soon
You will need 3 colors of carrots, or you could use parsnips too.
using a peeler make thin slices down the carrot. Do not press hard, keep ribbons as thin as possible.
When making ribbons you'll notice that one side is thinner than the other. This is what you want, it's that thin side that will give the flowers a delicate look. Do not worry if the ribbons are different widths, you want irregularity.
Starting with a small ribbon roll it up tightly. Keep adding more ribbons until you get to the desired width and height. Keep the thin edge of the ribbon facing the top as you add layers.
Once you have reached the size flower you want secure with a toothpick.
Place flowers on your finished cake. I used rosemary from my garden to add in a little green.
---
Print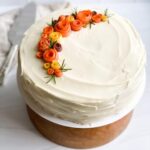 Carrot Cake with Carrot Flowers
---
For the cake:
2 cups

all-purpose flour (spooned & leveled)

2 teaspoons

baking powder

1 teaspoon

baking soda

1

+

1/2 teaspoons

ground cinnamon

1/2 teaspoon

ground ginger

1/4 teaspoon

ground nutmeg

1/2 teaspoon

salt

3/4 cup

canola or vegetable oil

4

large eggs room temperature

1

and 1/2 cups brown sugar

1/2 cup

granulated sugar

1/2 cup

unsweetened applesauce

1 teaspoon

pure vanilla extract

3 cups

grated carrots, lightly packed
For the cream cheese frosting:
2

(8-ounce) package (brick style) cream cheese, softened to room temperature

3/4 cup

unsalted butter, room temperature

4 cups

powdered sugar

2 teaspoon

pure vanilla extract
---
Instructions
To make the carrot cake:
Preheat oven to 350°F (177°C). Spray two 9-inch round cake pans well with non-stick cooking spray (you can also line the bottom of each pan with parchment paper for easier removal) and set aside.

In a large mixing bowl, whisk together the flour, baking powder, baking soda, cinnamon, ginger, nutmeg, and salt until well combined. Set aside.

In a separate large mixing bowl, whisk together the oil, eggs, brown sugar, granulated sugar, applesauce, and vanilla extract until fully combined. Add the grated carrots into the wet ingredients and mix until well combined.

Pour the wet ingredients into the dry ingredients and mix with a whisk or rubber spatula until just combined, making sure not to over mix the batter.

Pour the cake batter evenly between both prepared cake pans. Bake at 350°F for 30-35 minutes or until the tops of the cakes are set and a toothpick inserted into the center of each one comes out clean. Remove from the oven, transfer to a wire rack, and allow to cool in the pans for about 20-25 minutes. Once the cakes have cooled, remove from the pans and return the cakes to the wire rack to finish cooling.
To make the cream cheese frosting:
In the bowl of a stand mixer fitted with the paddle attachment, or in a large mixing bowl using a hand-held mixer, beat the cream cheese until smooth. Add the butter and mix for about 30 seconds-1 minute until well combined and smooth. Add in the powdered sugar and vanilla extract and continue mixing until fully combined, scraping down the sides of the bowl as needed.
To assemble the cake:
Level the tops of each cake with a knife. Place one of the cakes on a cake stand, top with a little over 1/2 cup of the frosting, and smooth it out into one even layer. Place the other cake on top and use the remaining frosting to frost the top and sides of the cake. Top with pecans or other toppings of choice if desired.
---