Summer is here and that means all you can eat, fresh at your fingertips, fruits and vegetables are in abundance. And if you're like me, you've been craving those fresh flavors since early spring!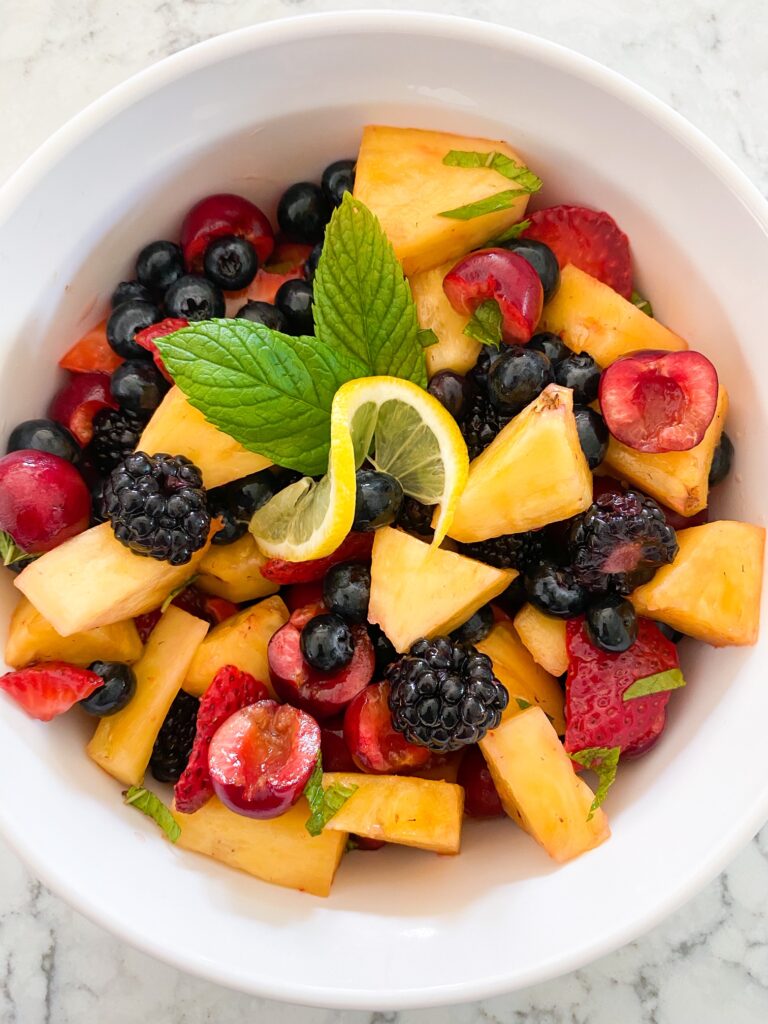 I get asked to help with all kinds of showers – baby, bridal, wedding, birthdays, engagement and I love it. This fruit salad is one of the most requested side dishes… another really popular party dish is my Jalapeno Poppers!
I know, 'whomp, whomp…fruit salad, big deal, nothing special.' But hold your horses, this recipe gets all the 'oooh's, ahh's, what's in this? Can I get the recipe?" remarks. Never judge a recipe by its title. 😉
This is not just diced up fruit thrown into a bowl. This is carefully chosen, thought out flavors and texture combinations (Ok, not really, but those thoughts do cross my mind) blended and marinated in a combination of sweet, tart and clean.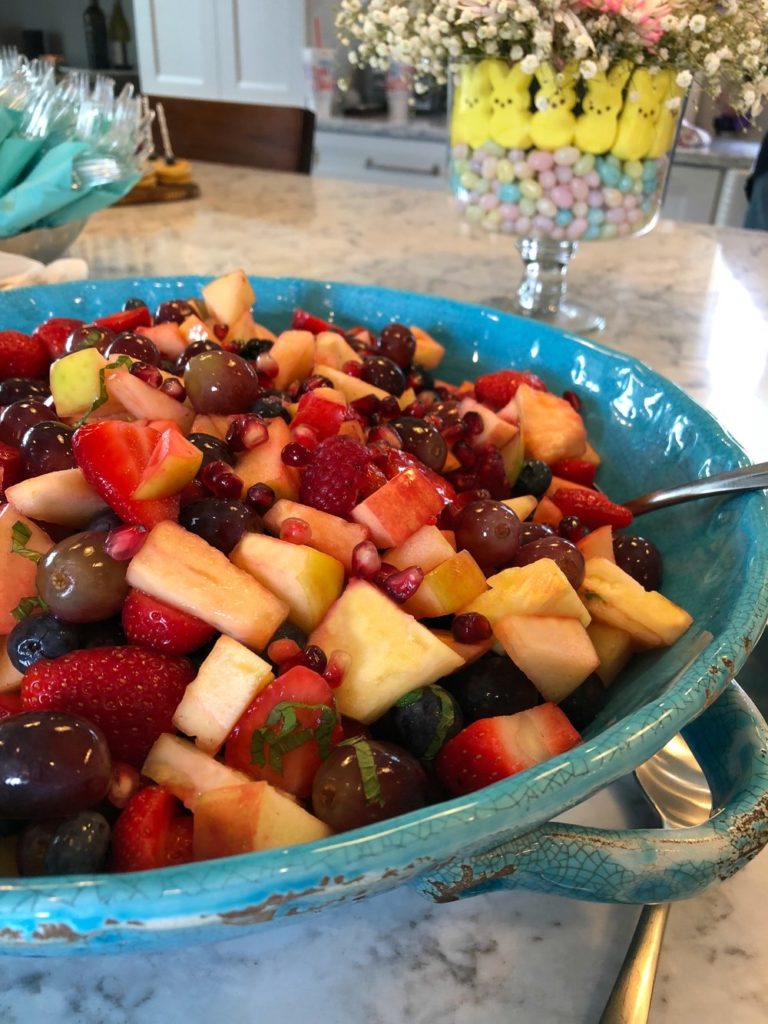 ---
Fruit Dos and Don'ts:
Do – choose a variety of bright colors. Think purple grapes, red strawberries, orange segments (pith removed) 
Don't – use mushy or soft fruit as the base. i.e. bananas, kiwi, raspberries – use them, but as a garnish on top only
Do – use fruit that is in season.
Don't – use unripened fruit and think it will get softer after you peel it. It won't. 🙂
Do – look for unique additions. i.e. pomegranate seeds, dragon fruit and mango
Don't – use cantaloupe and honeydew…it's sooo overdone, this is "Modern" think outside the rind. 🙂 Of course, if they are your favorites, by all means, add 'em in!
Do – cut fruit in smaller bite-size pieces, roughly the same size. Your guests will appreciate it.
Don't – skip the mint, it's your secret ingredient that adds a clean crisp taste.
---
Print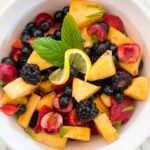 A Modern Fruit Salad
Author:

Prep Time:

30

Cook Time:

30

Total Time:

1 hour

Yield:

12

–

15

sides

1

x
---
FRUIT – these are my go-to selections but please use what you like.
1

bag of dark purple grapes

1

handful pitted cherries – cut in half

4

large Honey Crisp apples – skin on and diced

1

container of ripe strawberries – leaves removed and sliced

3

large navel oranges – peeled and segments removed

1

large or

2

small containers of blueberries

1

or

2

containers of blackberries

1

container of pomegranate Seeds
MARINADE
1/2 Cup

Orange Juice – I like Simply Orange or squeeze your own.

1

large lemon – juiced

1

large lime – juiced

1/4 Cup

Honey

10

(ish) fresh mint leaves – chiffonade
Note – Lemon and lime juice – you don't have to use both but I highly recommend one or the other in addition to the orange juice. Also, use a little bit of the zest from each of the fruits in the marinade, it just adds a more little flavor.
---
Instructions
Add all marinade ingredients (except mint) to a small bowl and whisk until combined.
Wash and cut fruit to the desired size, think bite-size so guests don't have to fumble with it at the table. Combine all fruit into a large bowl with plenty of extra room to toss and mix fruit.
Drizzle the marinade all over the fruit and sprinkle on the mint. Using a large spoon or spatula, scooping all the way down and under the fruit lightly mix to coat with the marinade.
Add the raspberries just before serving, do not mix in with the other fruit, they turn to mush. Sprinkle on the pomegranate seeds.
Refrigerate up to an hour then serve immediately. Do not marinade for hours, once you cut the fruit it will begin to make its own juices. Adding more liquid (the marinade) will make everything mushy and the colors bleed. Soupy fruit salad is not what you're going for.
Serve in a large bowl on a buffet or in individual bowls at an intimate brunch. Enjoy this taste of summer!
---
Notes
Make ahead Chopping fruit can take a lot of time so it makes sense to prep ahead. But what you don't want to do is store red strawberries with yellow pineapple. The red fruits will bleed and make everything sort of pink and not so appealing. The fix? Go ahead and wash, peel, chop and dice all the fruit, then you can either place all the prepared fruit in separate storage containers or using a couple of large bowls I'll group the dark fruit together (i.e. grapes, blueberries, blackberries) and keep the juicy fruit separate, like pineapple, and keep the cut apple by itself covered in lemon water to prevent browning.