Back in 2013 and 2014 I made this snack so often (like once a week for months) that I burnt out my taste buds. Time went on and I had forgotten how good these little guys were and how convenient they were to just grab one as I'm running out the door.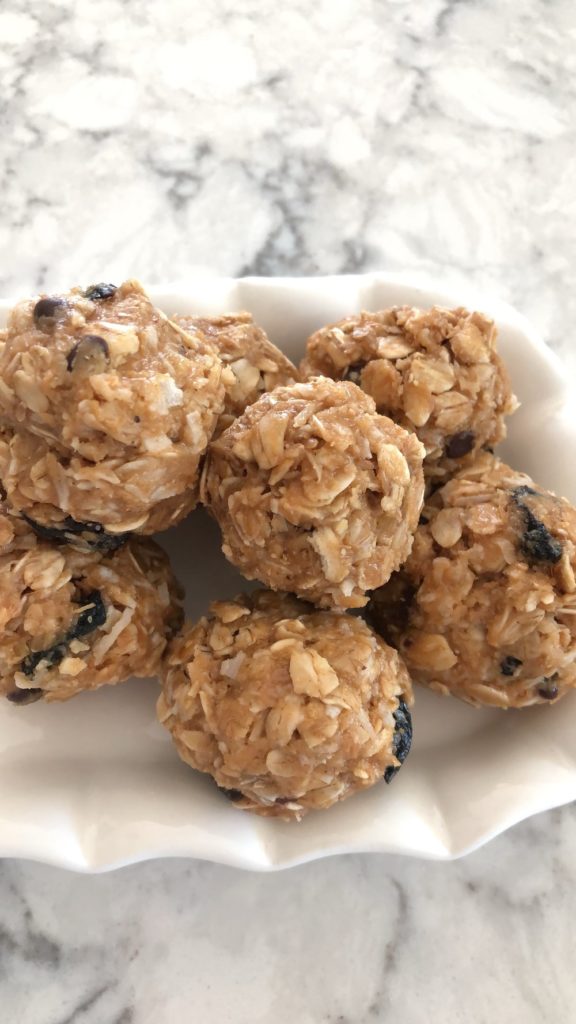 About 3 weeks ago I was thinking about snacks for my cousin's bachelorette party. Considering no female likes to eat a big meal then slip into a bathing suit I started thinking about light nibbles, that's when these yummy 2-bite snacks made a return to the DeSocio kitchen. After seeing the girls at the party eat 'em up I've decided they deserve a come-back.
The thing I like most is the versatility. If you have quick oats in your pantry you probably have enough stuff to make a batch. Back in the day I made so many variations and would encourage you to mix it up as well. Below are my go-to ingredients with some different options to get your creative side (and taste buds) thinking.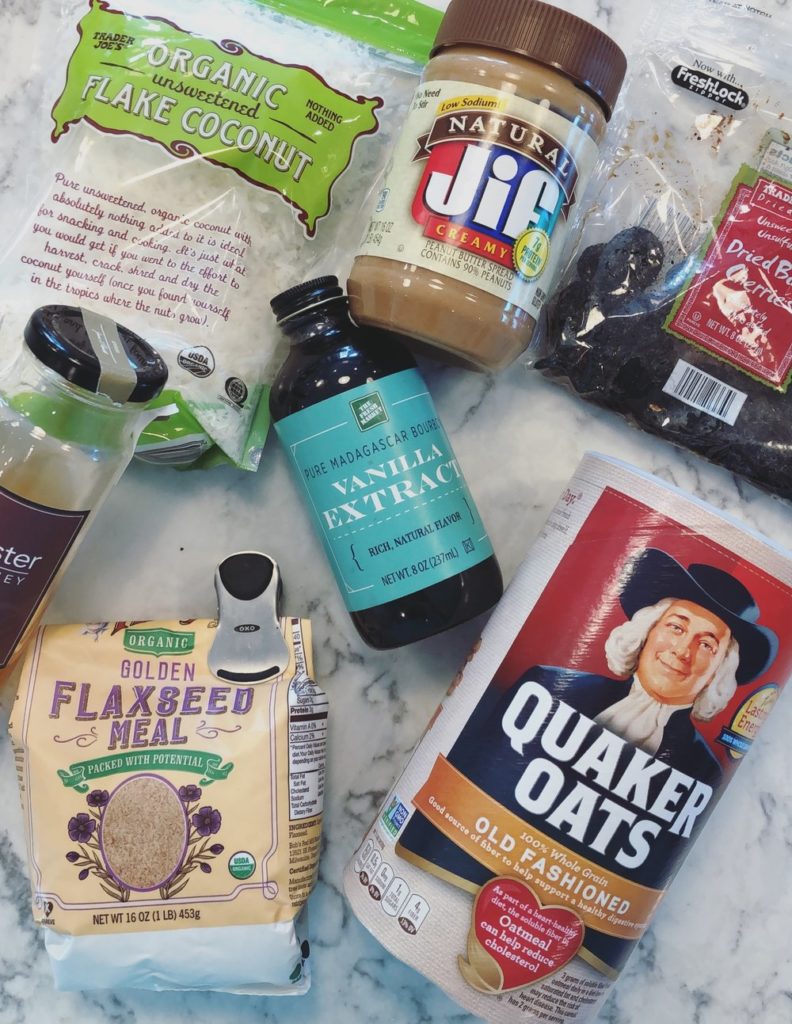 These Protein Bites were part of my cooking series 'Kids Cook Live', where I invite kids and their parent to join me in the kitchen via Instagram Live! If you have kiddos check out my Instagram every Friday for a new class!
Print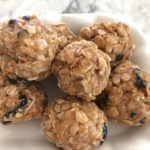 Peanut Butter Protein Energy Bites
Author:

Total Time:

30 min

Category:

Healthy Snack

Method:

No Bake
---
1 cup

old fashioned oats

1/2 Cup

Peanut Butter (You can use chunky or smooth) or Almond Butter

1/3 Cup

Unsweetened Coconut

1/2 Cup

ground flaxseed

1/3 Cup

Mini Chocolate Chips

1/3 Cup

Chopped Bing Cherries (Trader Joes has my favorite) or raisins

1/3 Cup

honey (or agave or a combo of both)

1/2 tsp

vanilla
---
Instructions
Combine all the ingredients in a medium or large bowl.  I find using a spatula to stir and mix works best to get everything combined.
If you have time, refrigerate for an hour then roll into balls. If the mixture is cold it rolls easier and with less mess on your hands. After you have rolled all the mixture into 1″ balls place back into the fridge in an airtight container.  I find these stay good for 7-10 days in the fridge.
*Note – to keep all the bites the same size I use a #40 scoop which you can find here on my favorites page. You'll find this scoop has so many uses, it's worth it to have on hand.
---
Notes
Additional Add-ins: (about 1/3 Cup each)
chia seeds, chopped almonds, raisins, chopped almonds, chopped cashews, chopped prunes, dried pineapple
*NOTE – if you're substituting an ingredient you won't need to change the recipe, however, if you are adding more than 2 additional options you'll want to add a little more of the 'binder' i.e. peanut butter and/or honey. Start with adding 2 tablespoons more of PB and a 1 tablespoon of honey.
Keywords: Peanut Butter Protein Energy Bites