Ceviche is very light and refreshing, you can eat a big bowl and not feel guilty at all! One summer I made ceviche every weekend, I love it that much.
The origin of ceviche is Peruvian but you can find it on menus in most Latin American countries as well as coastal ares in the US and Europe.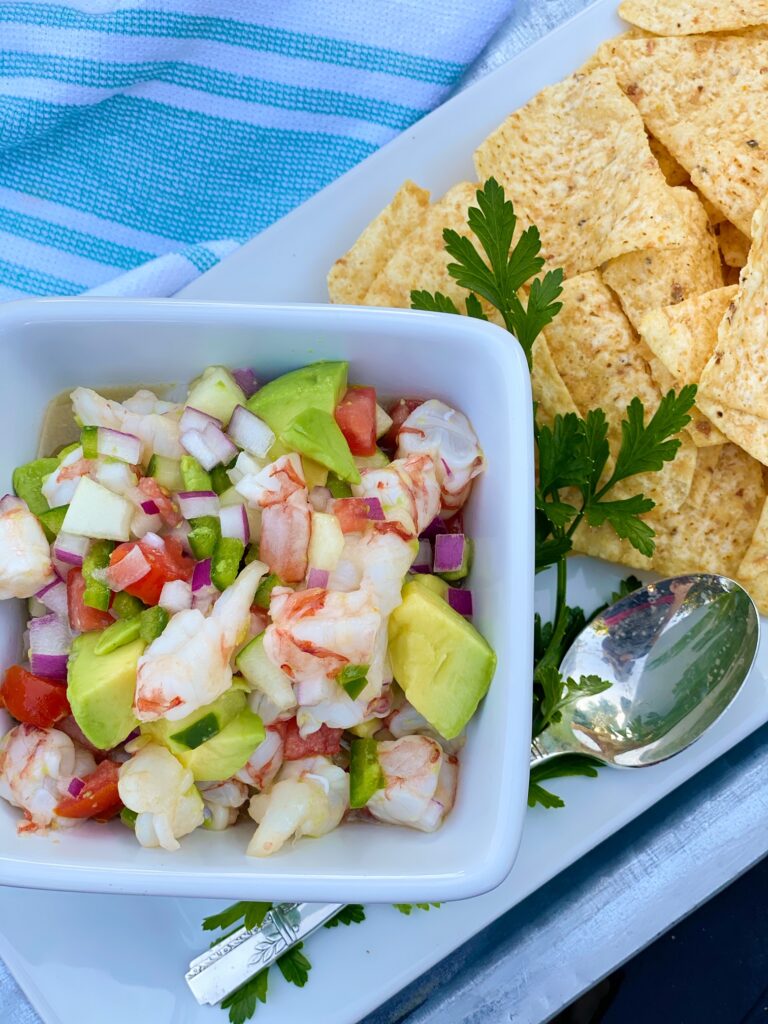 Best fish for ceviche
My go-to for ceviche is shrimp but you can cook a variety of fish and shellfish too. But know that some fish, like mahi mahi will take around 50 – 60 minutes to cook. Some fish are more dense than others. Cutting the fish into small pieces is a good idea to make sure the juice can marinate all the way into the center of the fish.
White Fish for use in ceviche:
Mahi Mahi / Sea Bass / Tilapia / Grouper / Sole / Snapper
Shellfish for use in ceviche:
Shrimp / Scallops / Lobster / Prawns / Squid
Important! Always use fresh fish or shellfish. Since there is no heat to kill bacteria you do not want to use fish that has been in the fridge for a few days. You can use fish that was previously frozen but use and consume it the day it was thawed.
---
Print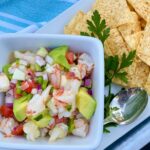 Quick Shrimp and Avocado Ceviche
Author:

Prep Time:

15 min

Cook Time:

10 min

Total Time:

25 minutes
---
1

pound (large or jumbo) raw shrimp – peeled and deveined 

1/2

red onion – chopped very small

1

ripe avocado – diced

1

jalapeno – diced (remove seeds for less heat)

1

– cucumber – diced (remove seeds if they are large)
red pepper – diced – optional

5

–

8

limes (this depends on how juicy they are, I've had limes that produce hardly any juice so buy a few extra)

1

large lemon

1

orange – optional
salt
cilantro – a small handful 
---
Instructions
In a medium plastic or glass mixing bowl place the shrimp. Note: I like to cut each shrimp into about 3-4 pieces (they "cook" quicker and I think it's easier to eat on a chip), but you could leave them whole.
Squeeze enough lime, lemon and orange juice to cover the shrimp. Note: you do not have to use all three citruses, but if you are only using one, go with the lime. Allow shrimp to sit in the citrus until they are no longer opaque or translucent. About 10-15 minutes.
While the shrimp are cooking, chop all your veggies. I like to chop everything (except the avocado) pretty small so that when you take a scoop with the chip you get a little bit of everything.
Once the shrimp are cooked, discard some of the juice at least half. Mix in the veggies, a large pinch of salt and the cilantro. You want some juice for the veggies to marinate but you don't want everything swimming. Taste and adjust salt accordingly. 
You can serve immediately but I like to cover it allow it to chill for a little while in the fridge.
Serve with chips or just eat it with a fork! 
---