If you are craving some cake but you don't want to bake an entire cake…this mug dessert is just your size.
I'm a big fan of lemon and berries (of any kind) so this little dessert has quickly become one of my go-to's! I don't have to turn on the oven and the only dishes to wash is the one mug, a fork to stir and my 1 tablespoon measuring spoon. This is a win-win for me – I get cake and I get to eat it hot and fresh in about 5 minutes!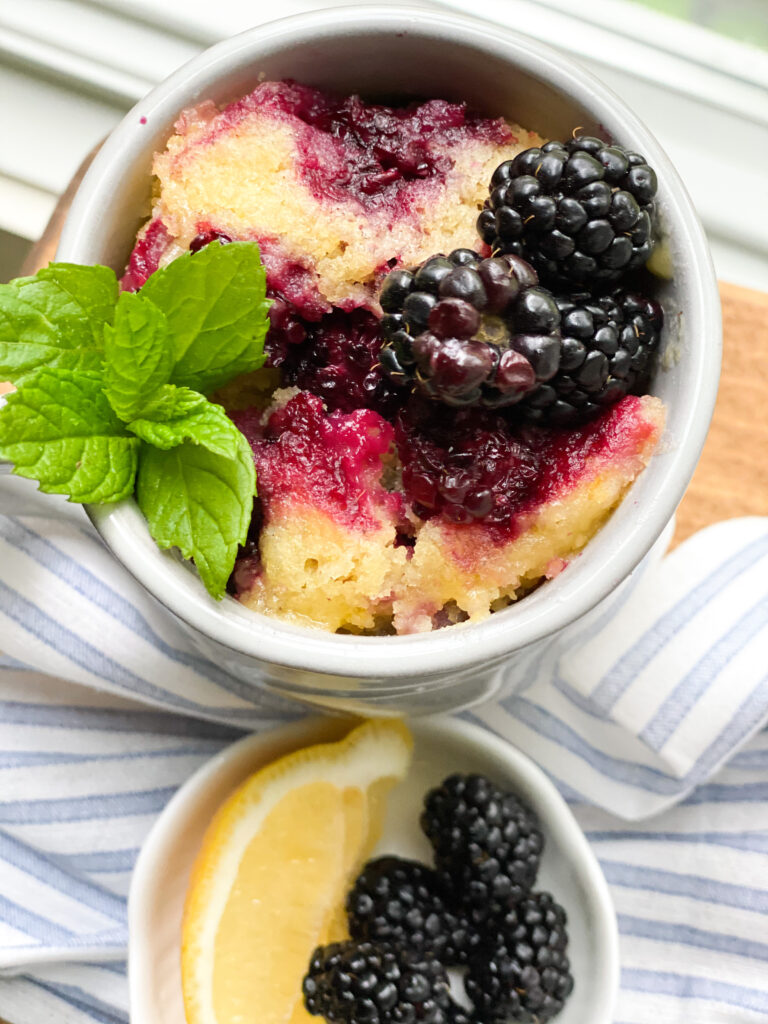 Print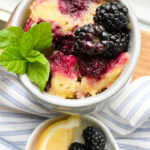 ---
3 tablespoons

all-purpose flour

1/4 teaspoon

baking powder

3 tablespoons

sugar
pinch of salt

1

egg

1 tablespoon

canola or vegetable oil
zest and juice from half a lemon

1/4 cup

blackberries (or blueberries or raspberries)
---
Instructions
In a microwave-safe mug combine all the dry ingredients – flour, sugar, baking powder and salt. Using a fork stir well and smash out any lumps.
Next, add in the remaining ingredients – oil, egg, lemon zest and juice. Mix well to combine. Then gently stir in all but 3 the berries. Top the cake with the remaining berries.
Place in the microwave, on a paper towel or paper plate (just in case it overflows) and microwave on high for 1 min. Check with a toothpick for doneness. If undercooked, microwave for another 15-30 seconds.
Be careful! The cake will be HOT! Allow to cool for a few minutes before eating. Top with ice cream and enjoy!
---
Notes
I found the best-sized mug is right around 8 ounces. The cake rises but still leaves room for ice cream if you'd like to add any. Feel free to use any sized mug you'd like just know if it's a large mug, it won't rise to the top. 🙂
Doubling the recipe – I've tried this and the only change is the microwave time. I had to cook for 2 minutes for the cake to cook through.