Growing up I didn't really eat eggplant, not that I dislike it, it just wasn't something my parents cooked. But over the years I've become a huge fan!
My husband, however, grew up eating eggplant parmesan. His mom, Ann made the best-fried eggplant and she is who actually introduce me to the purple fruit. YES, that's right, eggplant is actually a fruit, it's related to the tomato and potato.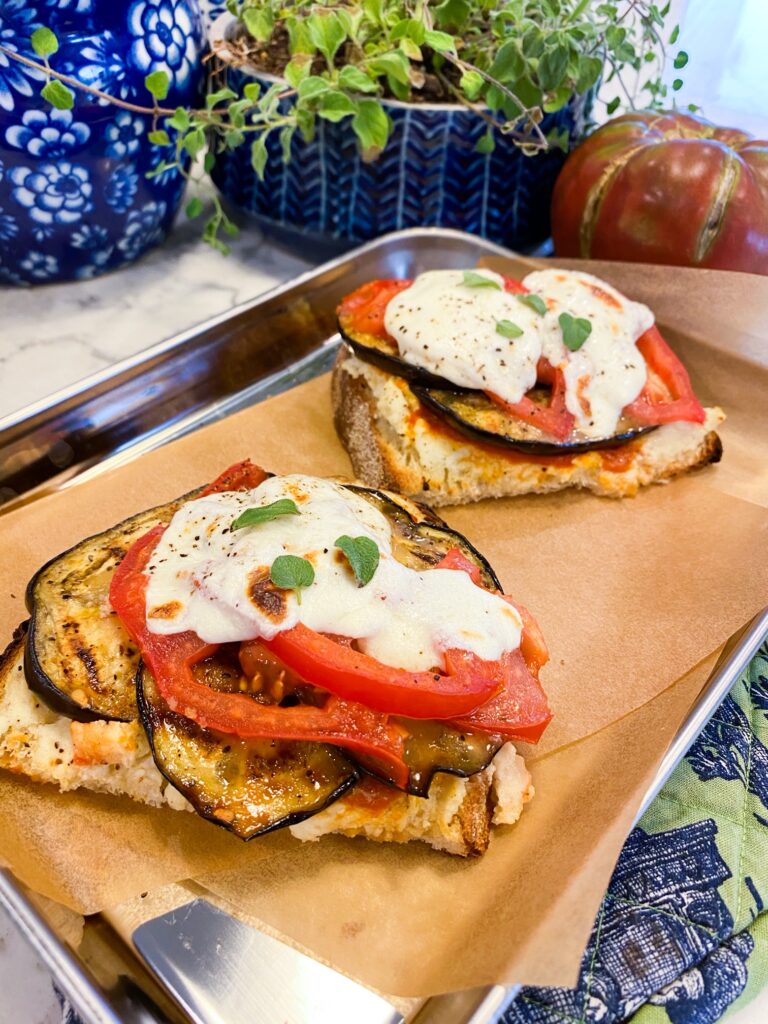 Eggplant is pretty much a blank slate and a bit of a sponge. Which makes it great for cooking because you can prepare it so many ways and it will take on the flavor of whatever you add!
This sandwich has ton of flavor layers, seasoned ricotta cheese, my favorite marinara sauce, meaty eggplant, super-ripe tomatoes, and salty mozzarella cheese.
---
Links in this post are part of the Amazon Associate program. I earn a small commission from qualifying purchases at no additional cost to you.
---
Print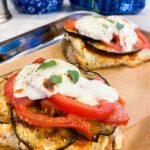 Grilled Eggplant Stacker Sandwich
---
2

slices of fresh bread, lightly toasted

1

garlic clove

2

small eggplants (skin removed if you prefer)

1

C ricotta cheese

1

C marinara sauce – warmed

4

slices of tomato

4

slices fresh mozzarella
Salt/pep/olive oil
---
Instructions
Peel and slice eggplant, season both sides with salt and pepper. Lightly oil grill pan and grill eggplant until browned on both sides.
In a small bowl mix ricotta, a large pinch of salt, pepper, and a drizzle of olive oil together.
Peel the garlic clove and rub on the warm toast.
Assemble the stacker. Spread ricotta on toast, then spoon a little marinara on the ricotta, layer on the eggplant, tomato and mozzarella.
Place under the broiler until the cheese is browned and melted.
Drizzle with thick balsamic vinegar (Note, I forgot the drizzle until after I took the photo). It adds a nice flavor so if you have it I would definitely recommend it.
---