To say something is the 'world's best' carries a lot of weight. Right, it better not only be good but it better be AMAZING!
I can confidently say these mushrooms are THE BEST! The mushrooms are meaty, the sausage gives it a little kick while the garlic salt brings out so much flavor. I know it doesn't look like much but the simplicity of ingredients is absolutely incredible.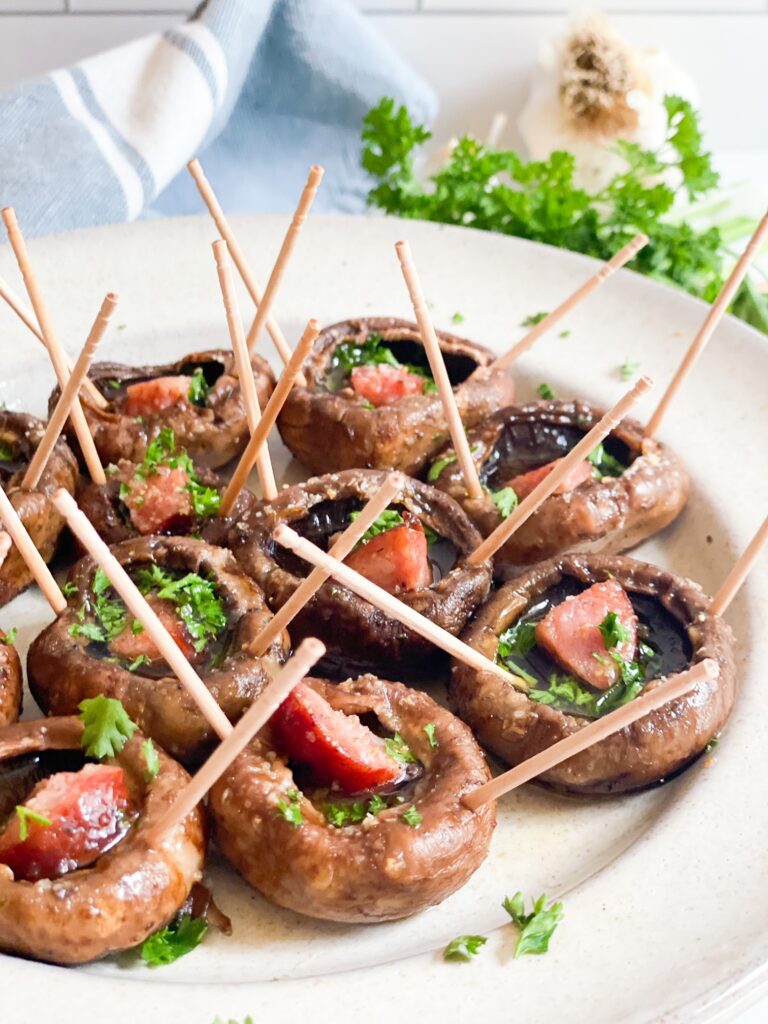 Where did I learn about these mushroms? Madid, Spain
Back in 2016 my husband and I traveled around Spain. On the second to last day of a 14-day trip, we took a food tour in the heart of Madrid. The last stop on the tour was at Mesón del Champiñon a restaurant my husband and I walked past at least 6 times never noticing it – it really is a hole in the wall, from the outside.
You walk in you'll see a small bar to your right and if you look up the ceiling is rounded, think hobbit-ish with ceramic mushrooms popping out of the ceiling. You will then be greeted with smiles and laughter and the guy behind the counter shouting in Spanish "what are you having?". Based on how many trays of mushrooms you see there's really only one answer – "I'll take the garlic mushrooms!"
But then how do you eat these – with just two toothpicks? Our food tour guide gave us a demo and we were off, filling our bellies with the "world's best mushrooms"! To eat you want to grab one toothpick in each hand and toss it down the hatch!
When cooking, the mushrooms fill up with their juices and seasoning so you don't want to use a fork b/c when you tip it up all the juice will drip out the back of the mushroom!
Mesón del Champiñon – May 2016
---
Print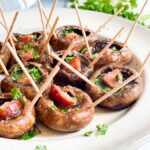 Garlic Mushroom from Madrid, Spain
Author:

Prep Time:

10 min

Cook Time:

10 min

Total Time:

20 minutes

Category:

Appetizer

Cuisine:

Spanish
---
20

mushrooms caps – baby portabella or whole white
spicy andouille sausage – cut into small pieces about 1/2 inch

1/2 cup

fresh parsley – chopped

1 tablespoon

garlic salt
olive oil

40

toothpicks
---
Instructions
Remove the stem from the mushrooms and wipe caps wtih a damp paper towel.
In a deep skillet, over medium heat add a drizzle of olive oil and heat the sausage through. Once cooked remove and sit to the side.
Assemble the mushrooms. Place once piece of sausage into each mushroom cap then sprinkle with the fresh parsley.
In the same skillet, over medium heat, add a big drizzle of olive oil. When hot, place in the prepared mushrooms and drizzle olive oil over the mushroom and sprinkle on, generously, the garlic salt. Cover and cook about 5 minutes. You'll know they are ready when you press on the side of the mushrooms and they are soft.
To serve, place two toothpics on either side of the mushroom cap. To eat, using both hands, hold each of the toothpicks and bring to your mouth! Eat immegiatly after cooking!
Enjoy and let me know what you think of the "world's best mushrooms' from Madrid, Spain!
---
Keywords: spanish, Spain, mushrooms, andouille sausage, spicy, garlic, parsley, tapas