As a food blogger I am always thinking about food and recipes. This recipe was literally invented in my head one day ago while I was in the kitchen having my morning coffee. I was looking at my inventory of food and wha-la! Peach Jalapeno Shish kebabs were born!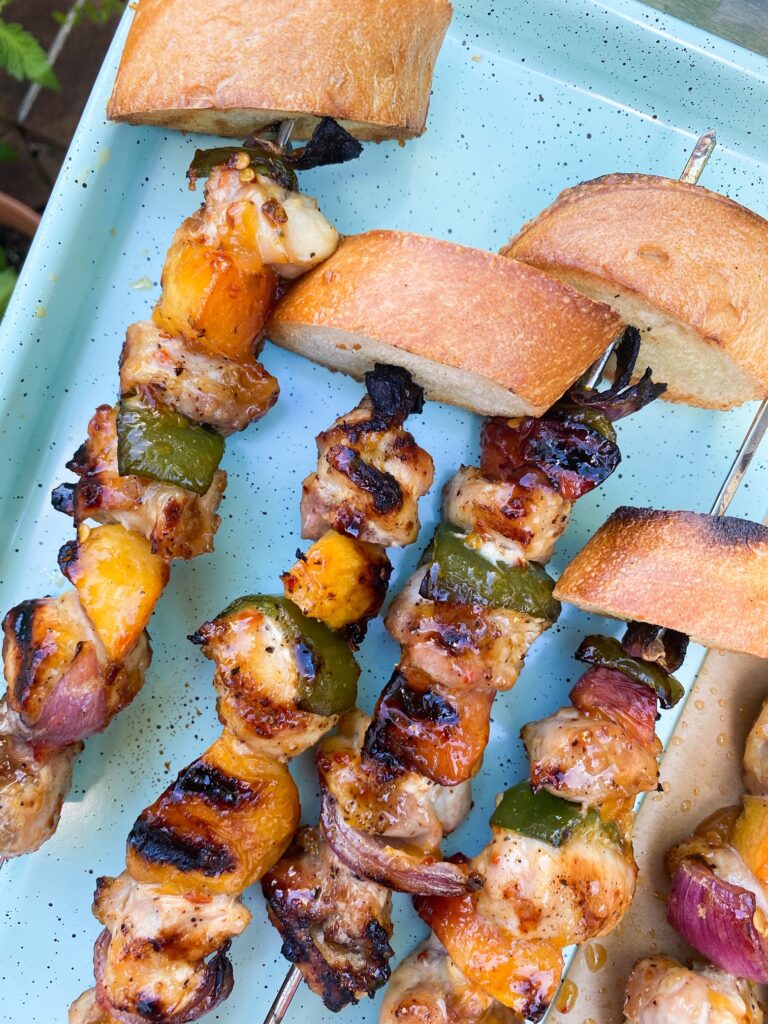 As I was whipping up this dinner I made notes, however, I do like to give full disclosure. I have only made this specific marinade this one time. But it's really freaking good, like so good I was surprised at how yummy it really did turn out – LOL! Making a marinade isn't complicated and I have full confidence in my readers that you will nail the recipe 100%. Just be sure to taste as you go. If you think it needs a little more of this or that… add it in! Make this YOUR very own recipe!
Note – when grilling, wait to add the marinade until after the meat (chicken in this case) has cooked part of the way through. Marinades with sugar will burn too quickly if added went the meat is raw.
---
Print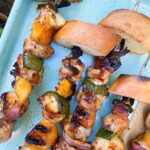 Peach Jalapeño Chicken Skewers
---
Skewers
6

chicken thighs – cut into

1

" pieces

1

peach – cut into

1

" cubes

2

large jalapenos – seeded and cut into

1

" pieces

1/2

red onion – cut into

1

" pieces

6

skewers – I used metal
Note – I think red bell peppers would be another great addition to the skewer
Marinade
1

c spicy peach jam or marmalade –  I used this one from The Fresh Market, but I think this brand would be good too, which they have at Kroger and Walmart.

2 tablespoons

olive oil

1 tsp

chopped garlic

2 tsp

salt

1 tsp

red pepper flake (+/- to your liking)

1 tablespoon

white vinegar (apple cider vinegar would work too)
---
Instructions
Preheat grill to 500F
Make the marinade – combine all the ingredients in a small bowl (except the olive oil) and stir together. Once combined, drizzle in the olive oil while whisking. Taste to see if it needs anything. It should not be overly sweet if so add a pinch more salt. It should also have a slight bite or tang from the vinegar.
If using metal skewers begin loading up the skewers, alternating between all your ingredients. I filled up 6 skewers. If you are using wooded skewers, soak in cold water for 30 minutes before filling with the ingredients, to avoid them burning on the grill.
Grill on high for 2 minutes each side. Then, reduce heat to medium and lightly coat with the marinade, continue cooking, turning and applying the marinade until chicken is cooked through. Because the chicken was cut into rather small pieces it will cook quickly. The total cooking time for me was right at 15 minutes.
---
Notes
Try to cut all the veggies and chicken roughly the same size. This helps ensure everything cooks evenly and helps avoid getting burnt veggies with undercooked chicken. 
If you prefer, you could skewer and cook just the chicken together and on separate skewers cook the veggies. This will help is you have trouble getting everything to cook at the same time.