Does anyone not like berry cobbler? Not me, I love the stuff! In fact, I'll take a berry dessert over a chocolate one any day. As far back as I can remember I've loved cobbler, there's just something about it that warms my heart…and my belly.
This recipe is so simple, the flavors, however, are anything but, the sweet berries mixed with sugar and baked under a topping that can only be described as a divine combination of cake and biscuit all in one. Have the recipe booked marked…people are going to ask for it. 🙂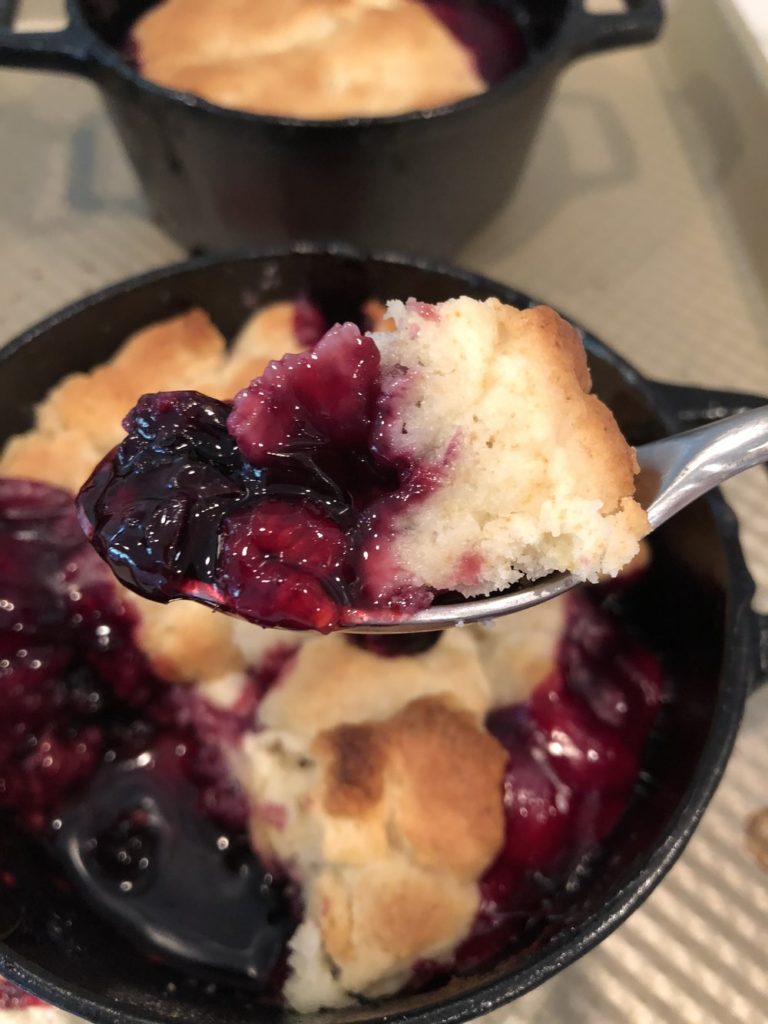 There are a couple of ways you could make this cobbler. Traditionally you'd bake cobbler it in a medium-size baking dish and scoop out servings, but I had just purchased these cute mini cast iron cocottes and really wanted to use them. I really enjoy presenting individual servings, it's like you had your guests in mind as you were making the personalized dessert.
I found these mini cocottes at Bed Bath & Beyond and so reasonably priced I picked up 6! Do remember though cast iron does require a little more care than most baking dishes (wash and dry immediately and coat in olive oil so it doesn't rust) but I don't mind the extra clean up when I have the time.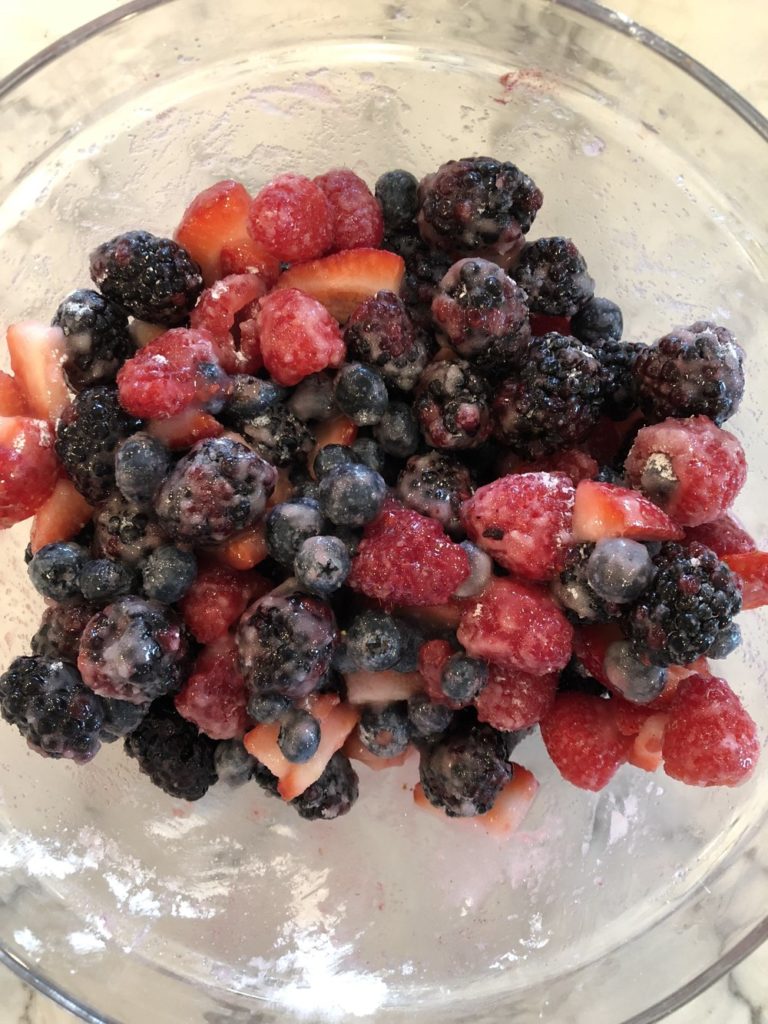 ---
Print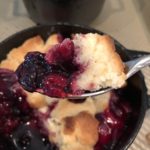 ---
Berry Filling:
1/2 cup sugar
1 + 1/2 tablespoon cornstarch
6–7 cups fresh berries (I used black berries, raspberries, blueberries and strawberries)
Dough:
1 + 1/3 cups all-purpose flour
1/4 cup sugar
1 + 1/2 teaspoons baking powder
1/2 teaspoons salt
5 tablespoons chilled unsalted butter, cut into small pieces
1/2 cup chilled whole milk
---
Instructions
Berry Filling:
Preheat the oven to 400°F. Wash berries and quarter strawberries (if using and/of if they are large) and place in a large bowl. Combine sugar and cornstarch in a separate bowl, stir to mix. Pour half the sugar mixture over berries, gently stir then add the remainder of the sugar mixture. Stir gently until all berries are covered. Set aside to macerate while you make the dough.
Dough:
1. Whisk 1 + 1/3 cups flour, 1/4 cup sugar, 1 + 1/2 tsp baking powder, and 1/2 tsp salt in a bowl. Add butter; using fingertips, smash and rub in the butter until a coarse meal forms. Add 1/2 cup milk, a little at a time, and stir until dough forms.
2. Divide the berries among 4 greased cocottes or pour into a greased baking dish.
3. You have 2 options here: you can pull apart the dough and crumble on top of the berries or you can roll out the dough enough to cover the baking dish. Your choice but I like the crumble, it's quicker, less to clean up and I like the thick pieces in the cobbler.
4. After you have the crust on the berries. Bake until fruit is bubbling and the dough is cooked through and golden brown, about 35 minutes. Let cool at least 30 minutes; serve with vanilla bean ice cream or the flavor of your choice.
---