I have a new friend Phuong (aka Elissa) she's from Vietnam and over the last year, we have become quite good friends. One day I started talking about food and how I love to travel and learn about different cultures, ingredients, and cooking techniques.
Elissa volunteered to teach me a few Vietnamese recipes and of course, without hesitation I accepted. These spring rolls were one of the items I learned to make.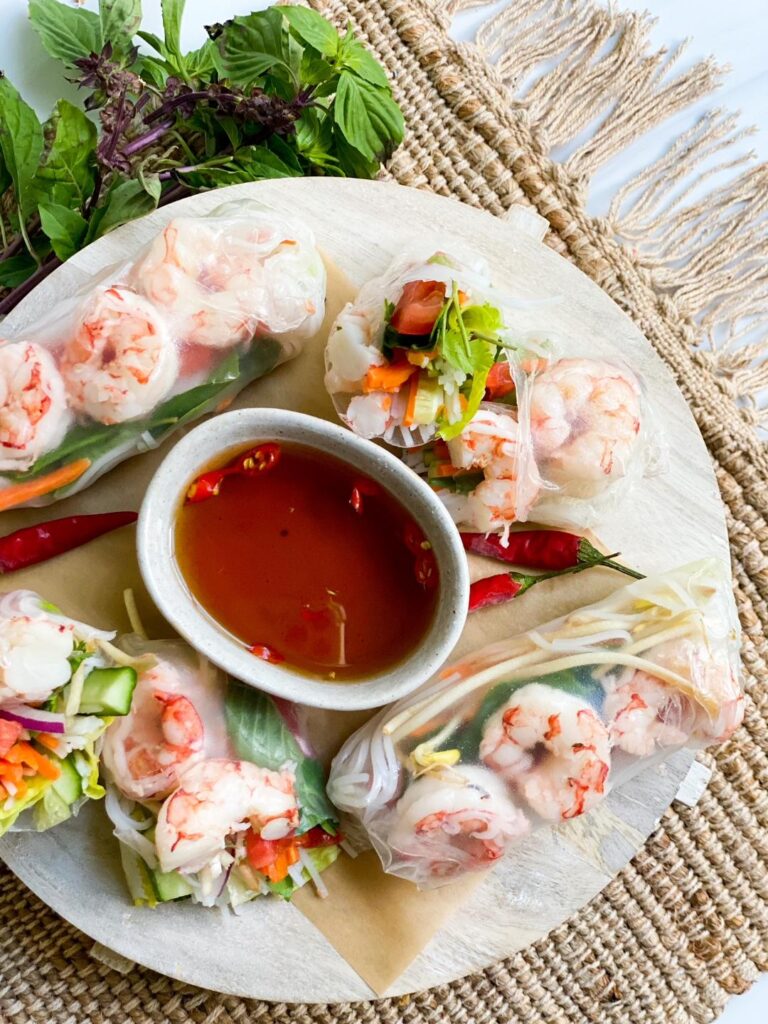 Easy to make, fresh and a fun way to get in your veggies!
Watch the how-to video below.
---
There are just under 1 million different combinations of ingredients you can use to make these rainbow-colored spring rolls. So don't get hung up on buying the exact items I have on my list, get adventurous, use what you like!
---
---
Print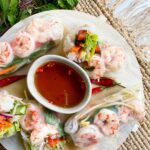 Shrimp and Veggie Spring Rolls
Author:

Prep Time:

20

Cook Time:

10

Total Time:

30

Yield:

6

rolls

1

x
---
1

Package of Spring Roll Skin/Paper
Romaine Lettuce
Carrot – shredded or cut into thin strips
Cucumber – skin removed and cut into thin strips
Basil
Cilantro
Bean Sprouts
Vermicelli/Rice Noodles
Cabbage
Avocado
Cooked Shrimp – the small version
Bell Pepper – any color, cut into thin strips
Dipping Sauce Ingredients
2

tbl fish sauce (favorite brand below)

6

tbl water – warm

2

tbl sugar

1.5 tsp

. fresh lemon juice

1

garlic clove – finely chopped

1

–

2

Thai chilies – depending how much spice you like
---
Instructions
Dipping Sauce
In a small bowl combine warm water and sugar. Add lemon juice and fish sauce in increments until you like how it tastes. Stir in garlic and chilies. Do several taste tests. Fish sauce is strong especially if it's a condiment you're not used to eating.
Spring Roll
• Get out all your ingredients, wash and chop what you need to then set up a little assembly line of veggies and shrimp.
• Take one Spring Roll Paper and run under warm water or dip in and out of a bowl of warm water for a just a second. Make sure the entire paper gets wet but don't let it soak. Place the wet paper on a large plate or cutting board. Starting with the shrimp place it in the middle of the paper, then layer on the lettuce and other ingredients.
• Now we roll! Taking the outside edges (to the right and left) fold them onto the lettuce and veggies. Then take the bottom edge and fold it all the way up and over all the ingredients and try to tuck it in nice a tight. Then just keep rolling until you have no more paper left.
• I like to cut them in half to show off the layers of color. Plate and serve with dipping sauce.
---
Notes
Do not get frustrated if the first couple don't roll up that easy and or look a bit messy. This step takes some practice.
The other tricky part is you need to work swiftly. The paper get's really sticky after you get it wet. If you leave it on the pate too long it gets difficult to peel off and will tear. So layer on the goodies and get to rolling! 🙂
Keywords: shrimp, spring Rolls, veggies, Vietnamese, cucumber, tomatoes, lettuce, rice noodles