The only thing about this grilled watermelon recipe that disappoints me is that I didn't try it earlier in the summer so we could have been enjoying it for months! Watermelon screams summertime fruit and I like to eat up as much as possible! LOL!
I'll let my husband's review do the talking for this one.
Mike: Why did you grill the watermelon? I like it regular.
Krista: Please, don't poo poo it until you've tried it.
Mike: Eats one bite, "wow! What's on this? It's really good! Is that balsamic vinegar? I really like this!"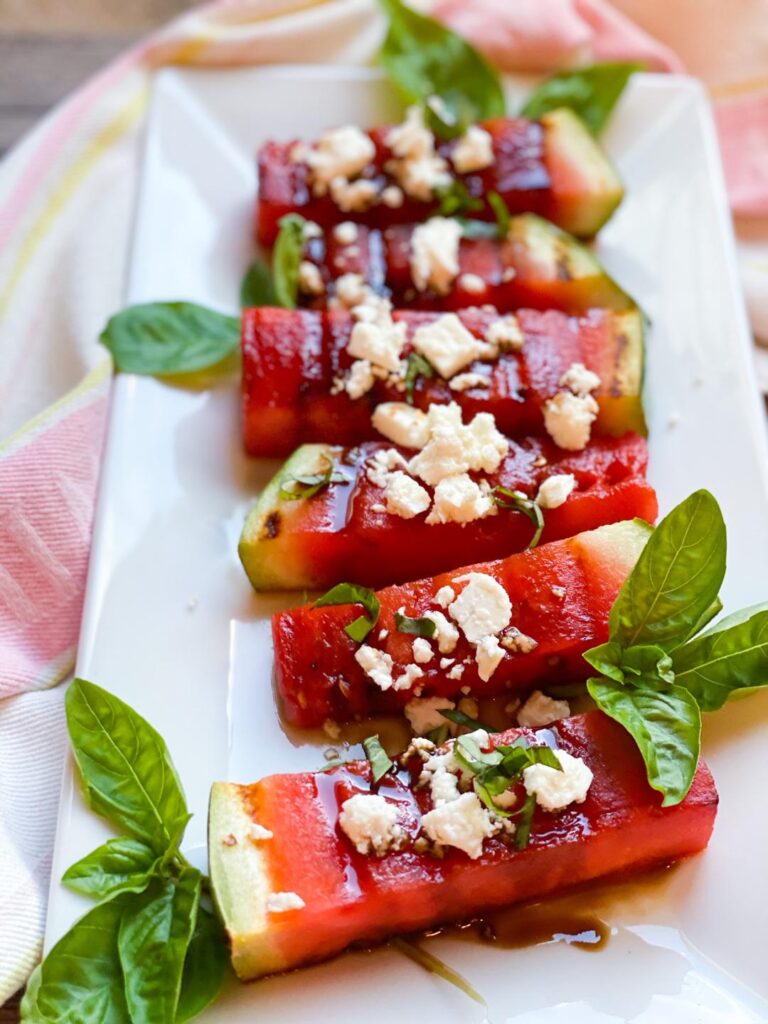 So there you have it, the honest unedited review of grilled watermelon! And get creative, no feta? Use goat or even blue cheese. No basil, i think fresh thyme would be nice too!
See below the recipe for my favorite olive oils and balsamic vinegars!
---
Print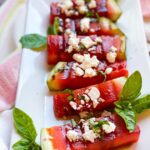 Grilled Watermelon with Feta and Balsamic Vinegar
Author:

Prep Time:

10 min

Cook Time:

10 min

Total Time:

20 minutes

Yield:

4

–

6

1

x

Cuisine:

American
---
1

small watermelon – seedless

1 cup

feta
thick balsamic vinegar*
fresh basil
good quality tasting olive oil*
salt
---
Instructions
Note – measurements aren't really required as it will depend on the size of your watermelon and how many slices you would like to make. So you are free to use as much or as little as you would like. 🙂
Slice watermelon into desired shapes, I like the stick shape but wedges work well too. I also like to leave on the green rine so it can be a handheld, but feel free to remove it if you prefer.
Heat grill (or grill pan) to medium-high. Lightly brush olive oil on the grates. Grill watermelon on two sides until you see grill marks starting to develop.
Remove from grill, place on a platter and sprinkle each piece with a tiny pinch of salt. Drizzle on the thick balsamic vinegar, olive oil and feta. Lastly, toss on some shredded basil and enjoy while warm!
---
Keywords: Grilled Watermelon with Feta and Balsamic Vinegar
Let's for a second talk about olive oil and balsamic vinegar.
In the recipe I mention "tasting olive oil", this is typically not an olive oil you would want to cook with but rather eat raw. For two reasons, one because the oil has so much flavor on its own, cooking with it will diminish those flavors. And two it's typically more expensive so you'll want to use it sparingly. For the serious foodie I recommend Piro, their olive oil tastes just like it does in Italy, it's fantastic but it is a little bit of an investment. If you are interested use code DITK20 for 20% off. As a less expensive option, I recommend the Premium Extra Virgin Olive Oil from Trader Joe's.
Balsamic Vinegar. I like traditional Italian thick balsamic vinegar and I don't mean make a reduction by simmering down the thin stuff. I mean a balsamic vinegar that's produced thick from inception. The flavors are undeniably better. And I've found a very reasonable source for fantastic balsamic that quite affordable. The Tree and Vine is a small family-owned business in Knoxville and I have been using their products for years. I buy the Aged Traditional in bulk.
Note: there are NOT sponsored or paid, I just want you to know about these great products!
---