Fruit Compote – just a fancy name for fruit cooked with sugar and spice.
I needed a last minute dessert. And by 'last minute' I mean dinner was served the dishes were cleaned and then it dawned on me, 'I should serve a dessert'.
My first thought was to head to the freezer. Typically I have some pre-made Trader Joe's goodies in there, but of course, I didn't. But what I did have was ice cream and frozen berries. So I threw together a quick compote and wa-la instant dessert. But as you can see from the pix, I didn't wait for it to cool before serving.
Compotes are great on top ice cream, waffles, pancakes, biscuits, granola and so much more! Have fun with it and let me know if you give it a try, tag #desociointhekitchen
Print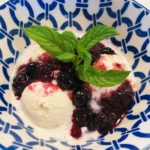 Easy Berry Fruit Compote
Author:

Prep Time:

5 min

Cook Time:

5 min

Total Time:

10 min

Yield:

4-6 servings
---
• 2 cups frozen berries – I used cherries and blueberries
• 1/2 cup water
• 2 tablespoons honey or sugar
• 1/4 teaspoon lemon or orange zest
• 1 to 2 tablespoon cornstarch
• a pinch of cinnamon and/or nutmeg – optional, add at the beginning
• mint sprig garnish – optional, I had some in my garden so I went for it
---
Instructions
Combine everything (except cornstarch) in a small pot and bring to a gentle boil.

Turn down the heat and let simmer, stirring occasionally.

Once the fruit has begun to breakdown I like to mash it up a little.

After the fruit has cooked for maybe 5 minutes, add 1 tablespoon of cornstarch and stir well.

Sauce should begin to thicken, then turn down the heat. If after a minute or so if the sauce doesn't get thick add a little more cornstarch.

Do a taste test and if it's not sweet enough for you add a little more honey or sugar and you're finished!
---
Notes
You can make a compote 1 to 2 days a head of time and warm it up just before serving.
You can also use fresh berries, they just take a little longer breakdown and you may need a little more water and sugar.
Keywords: Easy Berry Fruit Compote