Back in 2016 my husband I took a trip to Spain. We visited Barcelona, Marbella, Seville and Madrid, while all the cities were great I highly recommend Marbella, that is if you're into a laid back beach town with the cutest streets in the world. We absolutely hated to leave.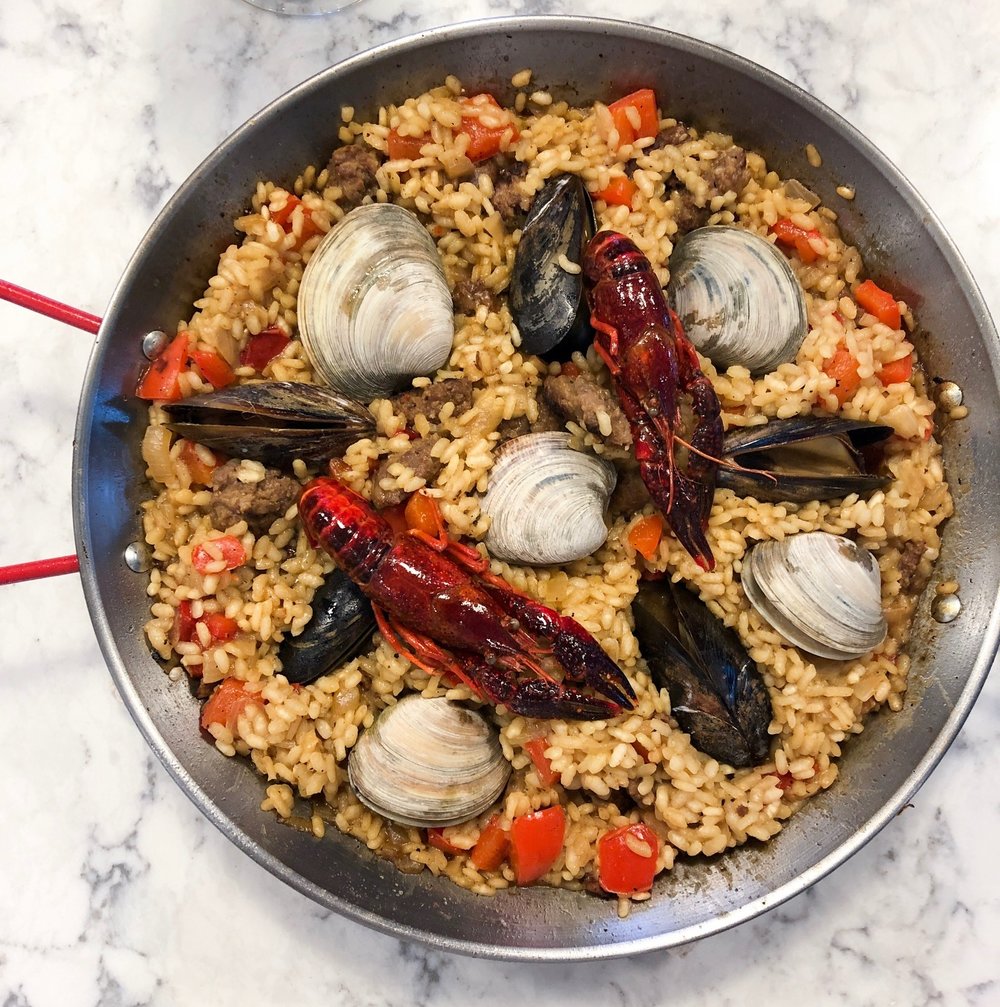 Quick story – As for the food, I couldn't get enough of it, the olives, the rice, the shrimp, the sangria, Spain is a foodie's heaven. However, after a long day in Barcelona we sat down to enjoy some tapas, I ordered a carafe of red sangria and these little sardines that looked good. After consuming half the sangria myself I went for the sardines…head and all. Apparently you're not supposed to eat the head…who knew… it took everything I had to swallow. Not my best culinary moment, but it did make my husband crack up laughing.
Anyway, back to the paella! While in Barcelona I took a (very authentic) cooking class. For example, we cleaned a cuddle fish and I now know all about ink sacks, intense, lol! We made probably 6 Spanish dishes but the highlight of it all was the paella. It's not complicated but it is a little bit of a process. Slow and low is the name of the game.
For this meal, I chose to make a traditional seafood paella. Dating back to its original roots from Valencia, Spain, paella consisted of meat, seafood and a vegetable, but you can get creative and make your own variation. Chicken is a very common ingredient as well as rabbit if you are feeling adventurous.
Take a look at the recipe and give it a try, I think you'll really enjoy it! If you do decide to give it a try, be sure to tag #deSociointhekitchen I love to hear and see how your creations turned out!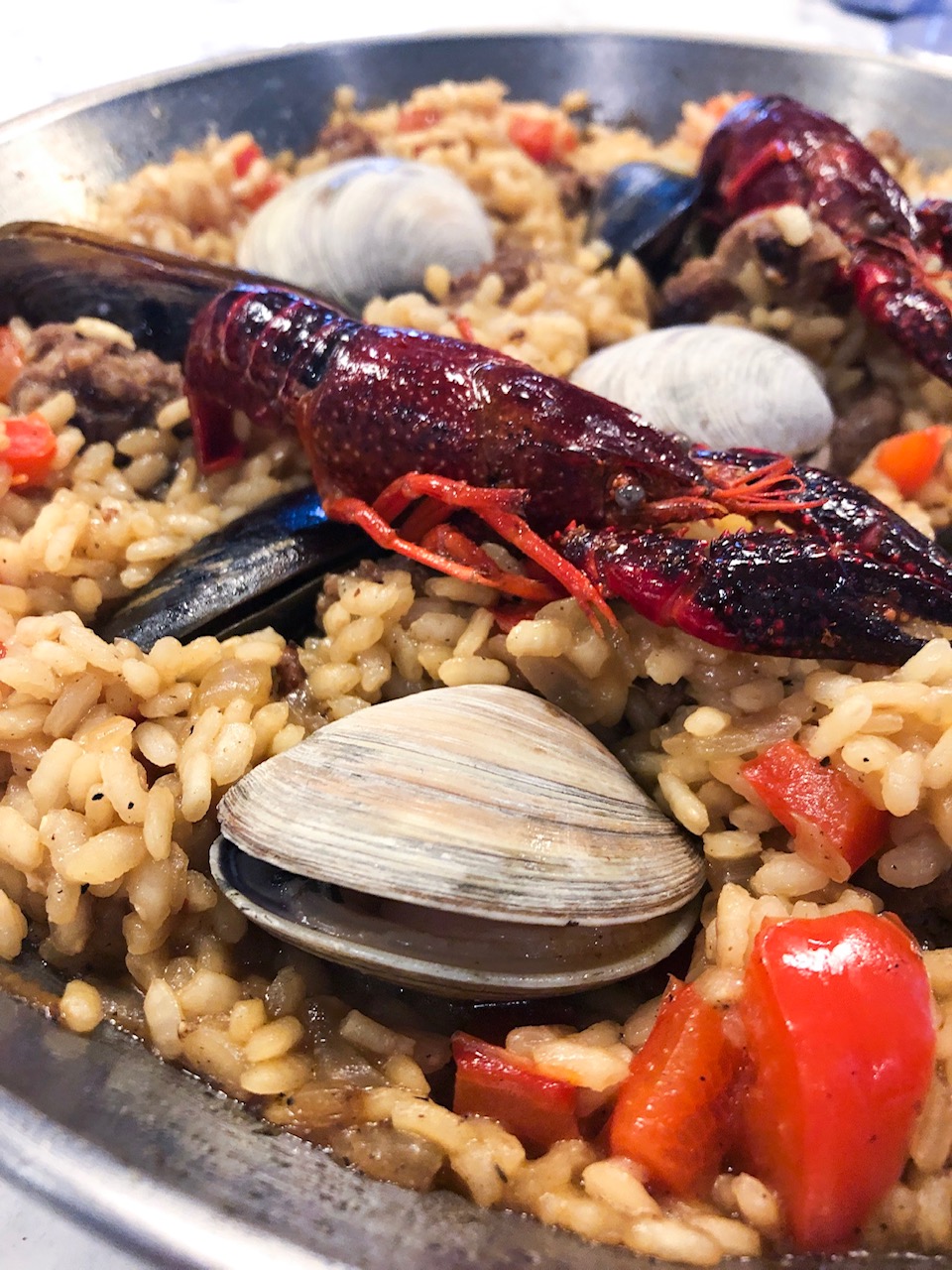 Below I included a few pix from our Spanish cooking class at Just Royal Bcn in Barcelona. I highly recommend this class and I would absolutely take it again if I ever found myself back in Spain.
---
Print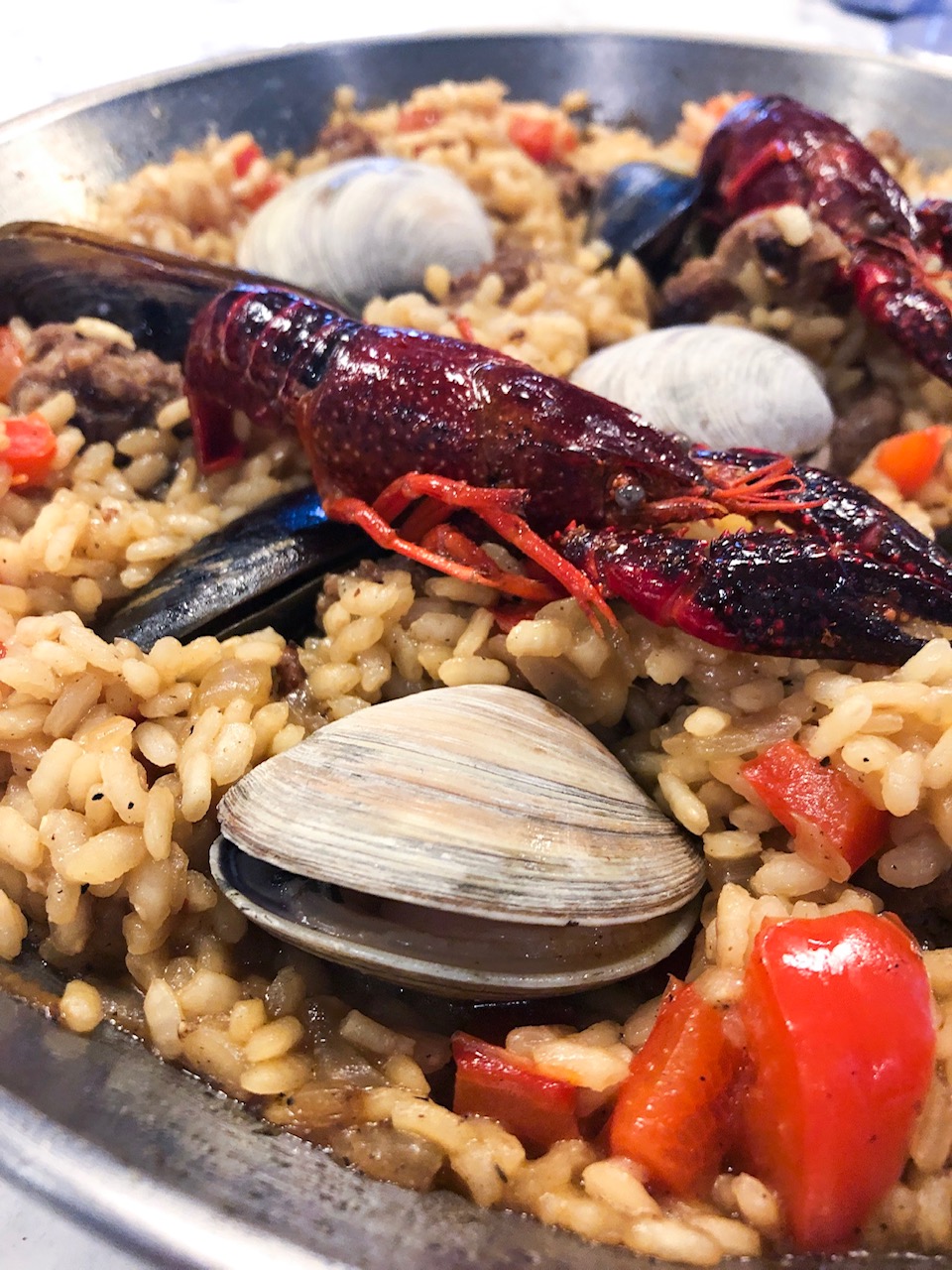 Chorizo and Seafood Paella
Author:

Yield:

2

–

4

servings

1

x

Cuisine:

Spanish
---
2

Tbs. olive oil

1

lb. Spanish chorizo or spicy Italian sausage, cut or chopped into bite-size pieces

4

jumbo shrimp or crayfish (I like head-on for presentation)

6

small clams, scrubbed

6

mussels, scrubbed and debearded

1

small yellow onion, chopped small

1

small red bell pepper, chopped small

2

garlic cloves, minced
Salt and freshly ground pepper to your taste

1

+

1/2 cups

Bomba

rice or other Spanish paella rice

1/2 tsp

. saffron

threads

4

–

6

cups broth (I use seafood broth but chicken or vegetable broth works too)
---
Instructions
Warm the olive oil in a paella pan or a large sauté pan over medium heat. Pan sear the crayfish on both sides, for 2 minutes total. Remove from the pan and set to the side for later. Add the sausage and cook, until browned, about 6 minutes. Add the onion, bell pepper and garlic and cook, stirring occasionally, until softened, 3 to 4 minutes. Season with salt and pepper.
Add the rice and saffron and cook, stirring, until the grains are coated with any remaining oil and seasoning in the pan, about 3 minutes. Pour in 3 cups of the broth and 1 teaspoon of salt. Stir to combine and bring to a boil, then reduce the heat to low, cook until the rice has absorbed nearly all of the liquid, about 15 minutes, gently stir (from the bottom up, kind of scraping the bottom) every 5 minutes. Once all the broth has been absorbed add another cup of broth, stir then let rest until all the broth has been absorbed. Repeat the process until the rice is tender. The exact amount of broth is hard to know, the last time I made paella with 1 + 1/2 cups of rice it took nearly 6 cups of broth to get tender!
When the rice has softened and absorbed nearly all of the liquid, nestle the clams and mussels into the rice along with the crayfish. (Note – any clams or muscles that stay open b/f you cook them should be discarded and not used.) Cover and cook until the mussels and clams have opened, about 5 minutes. Discard any unopened clams and mussels and serve.
---